Please use this page in conjunction with the smartraveller country travel advice for El Salvador. We strongly encourage you to subscribe to our travel advisories on smartraveller.gov.au, sign up for critical updates by SMS and follow us on Facebook (@AusEmbMex) and Twitter (@AusEmbMex) for the latest information on conditions in El Salvador.
Departing El Salvador
To depart El Salvador, the Government of El Salvador requires the traveller to present a Salvoconducto. A copy prepared by the Australian Embassy can be downloaded here. You will also need a salvoconducto for your driver to the airport, please contact the Australian Honorary Consulate ([email protected]) for details.
If you are departing El Salvador on a United Airlines flight (e.g. UA2404 from San Salvador - Houston), you will need to an authorisation issued by the US Embassy in El Salvador to board the flight. Contact the Australian Embassy in Mexico ([email protected]) to request your authorisation to board - you will need to provide the following:
full name as per your passport
Australian passport number
date of departing flight
Please also provide us with your privacy consent for us to share this information with the US Embassy in San Salvador. A simple "yes" in your email is suffice.
Salir de El Salvador
El Gobierno de El Salvador requiere que todo viajero presente un Salvoconducto para salir. Usted puede descargar una copia del salvoconducto escrito por la Embajada de Australia aquí. También necesitará un salvoconducto para su conductor al aeropuerto, comuníquese con el Consulado Honorario de Australia ([email protected]) para obtenerlo.
Si sale de El Salvador en un vuelo de United Airlines (por ejemplo, UA2404 de San Salvador - Houston), necesitará una autorización emitida por la Embajada de los Estados Unidos en El Salvador para abordar el vuelo. Contacte a la Embajada de Australia en México ([email protected]) para solicitar su autorización para embarcar, deberá proporcionar lo siguiente:
nombre completo según su pasaporte
número de pasaporte australiano
fecha de salida del vuelo
Por favor, incluya su consentimiento de privacidad para que compartamos esta información con la Embajada de los Estados Unidos en San Salvador. Un sencillo "sí" en su correo electrónico es suficiente.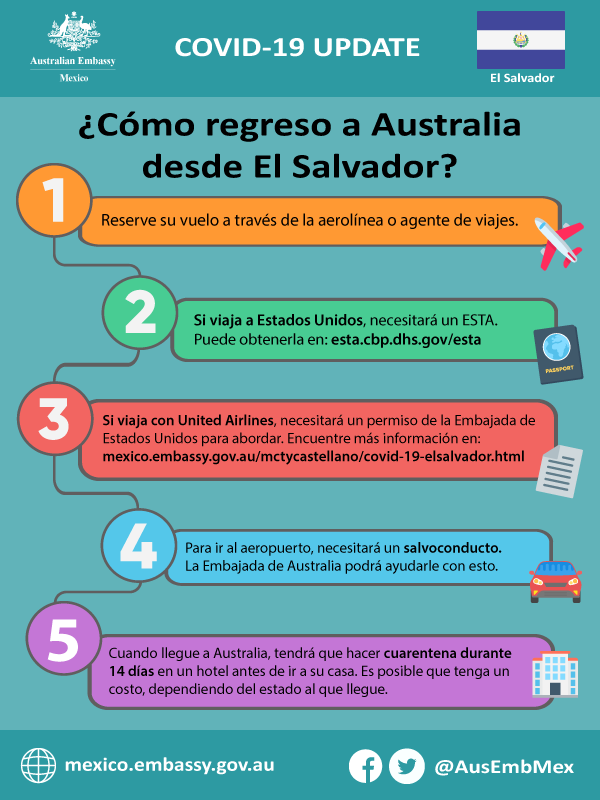 Service Providers
The following essential service providers have reported they will be opening sporadically in major urban centres, contact the service provider directly to confirm operating hours. Certain stores may also limit the number of patrons in store at any one time. You should consider home delivery options where available.
There are movement restrictions, including a curfew in place in El Salvador – refer to the smartraveller travel advice for El Salvador for further details. Certain stores have reported that they will deliver.
EL SALVADOR

Supermarkets

Pharmacies

Banks

Gas Stations

Texaco
Proveedores de servicios
Los siguientes proveedores de servicios esenciales han informado que se abrirán esporádicamente en los principales centros urbanos. Comuníquese directamente con el proveedor de servicios para confirmar el horario de atención. Ciertas tiendas también pueden limitar el número de clientes en la tienda en cualquier momento. Debe considerar las opciones de entrega a domicilio donde estén disponibles.
Existen restricciones de movimiento, incluido un toque de queda en El Salvador. Consulte los consejos de viaje de smartraveller para El Salvador para obtener más detalles. Ciertas tiendas han informado que hacen entregas a domicilio.
EL SALVADOR

Supermercados

Farmacias

Bancos

Gasolinerías

Texaco
Local Emergency Numbers
PROASISTUR, the tourist assistance unit
Tourist police- call 2511 8300
Fire and rescue services - Call 2527 7300
Medical emergencies - Call 911 or go to the nearest hospital.
Red Cross - Call 2222 5155
Police - Call 2202 0000 or visit the nearest police station.
Emergency telephone operators may not speak English.
Always get a police report when you report a crime.
Your insurer should have a 24-hour emergency number.
Números locales para emergencias
PROASISTUR, unidad de asistencia al turista
Politur - llamar al 2511 8300
Bomberos y rescate - llamar al 2527 7300
Emergencias médicas - llamar al 911 o acuda al hospital más cercano
La Cruz Roja - llamar al 2222 5155
Policía Nacional Civil - llamar al 2202 0000 o acuda a la oficina más cercana
Siempre obtenga un informe policial cuando informe un delito.
Su aseguradora debe tener un número de emergencia las 24 horas.
Actions to take
Medidas a tomar: