Australian Federal Election 2019.
The date for the 2019 Australian federal election has not yet been announced.
The Australian Embassy in Mexico City, will* be offering in person voting for the 2019 Australian federal election. Members of the public must provide photo ID in order to gain access to the Embassy. ID is not required to vote.
For information on enrolling and voting while overseas, please visit the Australian Electoral Commission (AEC) website at www.aec.gov.au/overseas.
If you wish to vote in the federal election you must be enrolled. To enroll, check or update your enrolment details visit www.aec.gov.au.
For updates on the election please check the AEC's website and follow the AEC's Twitter account.
*Locations in which in person voting will be offered may change at short notice, subject to unforeseen circumstances or security incidents.
New Smartraveller campaign launched
Australians are being reminded to make their first stop the Smartraveller website before they travel overseas in a revamped national advertising campaign. The new campaign aims to remind Australians to prepare for their upcoming trip and to take responsibility for themselves when travelling overseas. With Australians continuing to travel in ever-increasing numbers, with almost 10 million trips taken in the last financial year, the Smartraveller message continues to be critically important - be informed, be prepared - . While most Australians travel safely, and take appropriate precautions, the number of Australians seeking consular assistance continues to rise. A large number of these cases could have been prevented with the right preparation, planning and taking out comprehensive travel insurance. (more)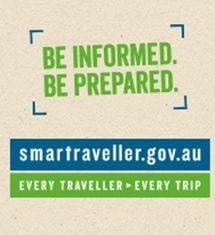 Services for Australians Overseas
Cuba - Where to get help
Australia does not have an embassy or consulate in Cuba. By agreement between the Canadian and Australian governments, the Canadian Embassy in Havana provides consular assistance to Australians in Cuba. This service includes the issuance of Provisional Travel Documents https://www.passports.gov.au/Pages/travel-related-documents.aspx#link2, but not Australian passports. Applications for Australian passports (including emergency passports) must be lodged in person at an Australian mission.
Guatemala - Where to get help
Australia does not have an embassy or consulate in the Guatemala. Please contact the Australian Embassy in Mexico for assistance Ph. +5255 1101 2256 or by e-mail to consularpassports.mexico@dfat.gov.au
Dominican Republic - Where to get help
Australia does not have an embassy or consulate in the Dominican Republic. Please contact the Australian Embassy in Mexico for assistance Ph. +5255 1101 2256 or by e-mail to consularpassports.mexico@dfat.gov.au
Consular and Passport services in Mexico City.
Telephone: (+52 55) 1101 2256
E-mail: consularpassports.mexico@dfat.gov.au
Changes to passport applications from 1 July 2015
We would like to draw to your attention to changes to Australian Passport overseas application procedures.
Personal Interview Requirement
From 1 July 2015, all Australian overseas passport applications require a personal interview at an Australian overseas mission. The Passports office at the Embassy of Australia in Mexico City does not book appointments you are welcome to come in Monday to Friday, from 8:30 am to 1:00 pm, and 2:30 to 4:30 pm
The Australian Honorary Consulates in the region work on an appointment basis. Please contact them by email. http://mexico.embassy.gov.au/mctycastellano/aboutus.html .
Applicants in Cuba and Guatemala, where Australia has no mission, will be required to present for interview at their nearest or most convenient Australian mission. Minors under 16 years of age are not required to present at the interview, one person with paternal responsibility for the child must however present for an interview.
Overseas Surcharge
From 1 July 2015, passport applications lodged overseas will incur an additional fee (overseas surcharge). The fee will not apply to emergency passport applications.
What we can and cannot do
Assisting Australians overseas within limits
Travel information for Australians
Get the latest travel advisories and other traveller hints from the Department of Foreign Affairs and Trade.
To obtain more information from the Mexican Health Department, please visit the following link www.salud.gob.mx
Passports
Complete your passport application online
Special requirements when applying for a passport at the Embassy in México
On-line registration for Australians overseas
We encourage use of this online registration service by Australians planning to reside overseas for extended periods, and those travelling to locations where there are security risks.
Additional information for Australians overseas
Former residents
A gateway to information about Australian benefits, payments and services
Returning to Australia
Handy information for Australians or residents returning from a holiday or moving back to Australia.
Taking cats and dogs to Australia